Your health, in good hands.
Nuestros terapeutas expertos están aquí para apoyar el desarrollo físico de tus hijos a través de la fisioterapia.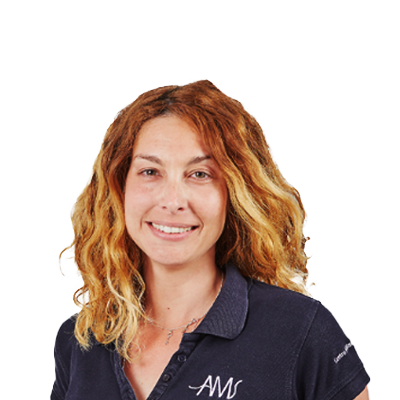 Directora Fisioterapeutas AMS
Ubicada en AMS Centro Médico del Ejercicio (Málaga/Marbella) y dirigida por el Dr. Guillermo Álvarez (Médico Especialista en Medicina del Ejercicio y el Deporte) y con dilatada experiencia en el diagnóstico y tratamiento de las enfermedades crónicas del tendón y especialmente de mala evolución.
Dirigida a la población infantil de 0 a 14 años, a la familia y al entorno, con el objetivo de dar respuesta lo más pronto posible a las necesidades transitorias o permanentes que presentan los niños con trastornos en su desarrollo o con riesgo a padecerlos.

✓   Traumatología infantil
✓   Terapia manual ortopédica y ejercicio
Desde la experiencia, la idea y la ilusión, en AMS pretendemos dar respuesta a un problema prevalente ofreciendo un servicio de calidad. Las intervenciones de este servicio tienen en consideración la globalidad del niño con el objetivo de facilitar una adecuada maduración que les permita alcanzar el máximo nivel de desarrollo e integración a todos aquellos niños que presentan déficits o tengan riesgo de padecerlos.
Dirigida a niños de 0 a 6 años y según sus necesidades, los servicios incluyen:
✓ Logopedia
✓  Fisioterapia respiratoria
✓  Tratamientos personalizados
Pediatric physiotherapy and early stimulation area.
✓ Hydraulic bobath stretchers
✓ Therapeutic exercise area padded with material for gross psychomotor skills.
✓ S peech therapy, child psychology and occupational therapy consultation.
If you would like to inquire about any of our services, please fill out the following form.
Do you want to post a review?